Canopies
Customer Installed Canopy Tents:
Canopy Tents are a light weight structure and GREAT for protection form the sun or light rain. To protect your guests from the elements, add a side wall to your canopy rental. Canopies are to be installed and removed by you, the customer. The only canopies capable of placement on asphalt or concrete are the 10×10 and 10×20 canopies.
Canopy Tent Sizes and Colors Available:
Professionally Installed Tents By Rental World :
The following tents can only be installed by our specially trained staff.
These tents are priced according to size, distance to travel and accessibility to tent site. For information on the following,
Contact :
Rental World – Limerick 610-489-2334 or Rental World – Lansdale 215-362-7368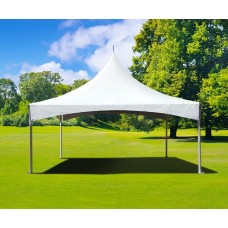 20′ x 20′ White high peak frame party tent
Frame Tent Rental: This free standing Tent features no center poles! Perfect for installation on uneven surfaces, concrete, blacktop and deck installations.
Frame Tent Sizes: 20×20, 20×40, 20×60
Tent Sides available: Solid or Windows